Case Study - How to protect a jetty or pier from an oil spill
Background:
Our client based on the Meditgerranean Coast has a fuel jetty and needed a permantly installed oil spill resonse solution that can be deployed and operated easily by 1 or 2 personnel.
The client required a system that could adjust automatically to the large tidal range.
Objective:
To provide a complete boom system to be rapidly deployed prior to fuel transfer operations taking place. The sytem must be able to cope with changing sea levels and conditions and need minimal operationg personnel. It must be possible to leave the boom system permantly located at the jetty and in the water ready to use.
Solution:
The system supplied consisted of 4 Foam Filled Sentinel Booms with fixed VikoSeal hammerheads mounted mid-way on the outermost booms. This created a Primary Containment Zone of approximately 30m x 5m.
The fixed booms were installed under the Jetty connecting to the piles with slider mechanisms to allow the boom to rise and fall with the tide and swell.
The sliders are attached to the piles using stainless steel bands that required no modification to the piles, making them ideal to retrofit to existing installations.
The VikoSeal Booms integrated with the fixed boom can be raised when not in use and lowered into position once the vessel is alongside and prior to loading/unloading operations commencing.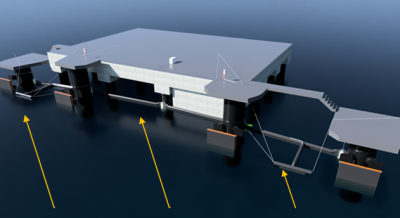 VikoSeal boom Foam filled Sentinel VikoSeal boom
boom on sliders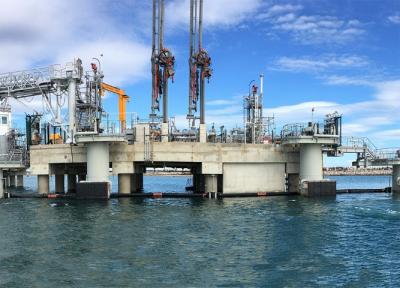 Areas in which we operate
Can we help you?
Contact Us